As a homeschool parent, I'm always on the lookout for new ideas to help teach my kids. I want to make sure that I'm giving them the education they need, all while building their character. That's why I love attending the Teach Them Diligently convention. This convention inspires new ideas, gives me fellowship with fellow homeschooling families, and is kid-friendly. Here's why you should attend the upcoming Teach Them Diligently convention: my quick review.
Why You Should Attend the Teach Them Diligently Convention
Teach Them Diligently holds homeschool conventions in 6 cities in 2018. You'll not want to miss them! The links in this post are affiliate links, which means I earn a commission for sales made through these links. Please read my disclosure for more information.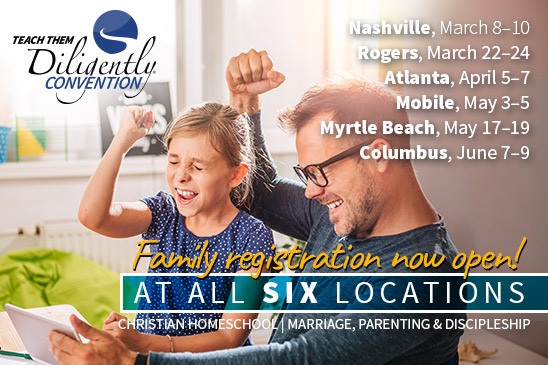 It's Inspiring
At times, it can be easy to forget the reasons we homeschool. When we're bogged down with lesson planning and record keeping, we focus on getting through the day. We forget the joy we have in homeschooling. Attending the Teach Them Diligently convention reignites our passion for homeschooling. It reminds us of all the reasons we homeschool and inspires us to look for new ideas and new curriculum. Attendees have a fresh outlook on homeschooling after attending this convention.
It's Kid-Friendly
We homeschool for the sake of our kids, so it only makes sense that we want our kids to be able to participate in a homeschooling convention. At the Teach Them Diligently convention, your kids get the chance to attend their own conferences and events. There are so many options for kids, including educational groups that use Minecraft, Legos, and robots to get your kids excited about learning. Your kids will have just as much fun (or more) as you will, making it a convention that your whole family looks forward to each year.
The Fellowship
It's so nice to be around other homeschooling families that have the same passion and ideas that you do. During this convention, you are encouraged to develop relationships and share ideas with those around you. This type of fellowship can be hard to come by, making the Teach Them Diligently convention so much more valuable. You'll get a chance to make connections and relationships with other homeschooling families that will last for years.
There Are Great Products
Not only do you get to hear great ideas for homeschooling, the Teach Them Diligently convention also gives you the chance to hear about different homeschooling products. Whether you're on the hunt for a new curriculum or for products that will support your kids' education, the Teach Them Diligently convention has it all. You'll get to talk to representatives from the company and ask questions about how that product will meet your needs. You will even get the chance to see some of the products so that you can decide for yourself if it's the right investment for your family. After this convention, you'll have so many new approaches to your homeschooling day.
This Year's Convention
If you're thinking about attending this year's convention, you have so many options. There are so many locations to choose from so you can attend the convention that's closest to you. Here are the locations and highlights from each.
If you're a homeschooling family, the Teach Them Diligently convention is a must-attend for the entire family. Everyone, from the youngest to the oldest, will enjoy all of the workshops offered at this convention, as well as the variety of speakers scheduled to lecture. Register to attend today!