This huge list of homeschool spelling printables, activities, resources, and more will help your child remember his/her spelling words!
Homeschool Spelling Printables and Activities
What insect can be spelled with just one letter?  BEE!  Ok, that was pretty corny, but enough with the jokes. Spelling isn't to be taken lightly, so this is a roundup of spelling programs, printables, books, and games. By the way, this post contains affiliate links, which means I may earn a commission when you click a link and make a purchase. Please read my disclosure for more information.
Spelling Printables
Spelling printables are always helpful – especially when they are FREE!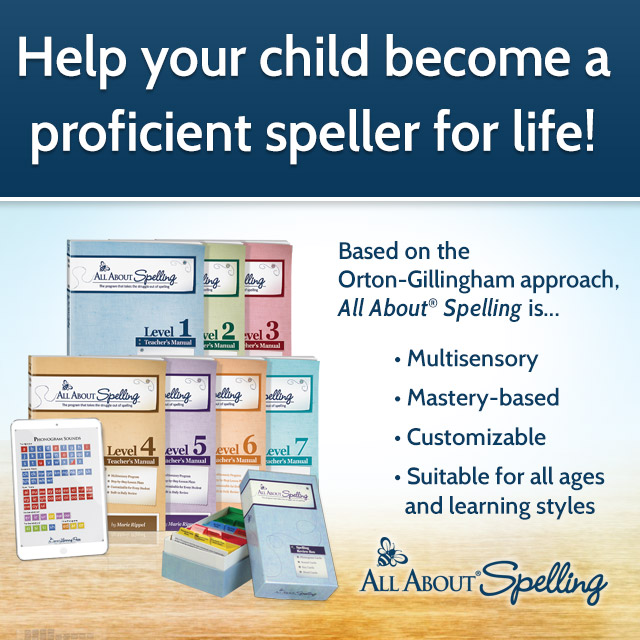 Spelling Programs & Resources
Check out these programs and resources for comprehensive ways to teach spelling. Included are complete spelling programs as well as tools to help with spelling.
Spelling & Phonics Books
These books help emerging readers and writers learn to spell. These books include phonemic awareness, easy lessons, sight words, spelling patterns, activities, spelling rules, and more.
Words Their Way: Word Study for Phonics, Vocabulary, and Spelling Instruction (5th Edition) (Words Their Way Series) – instructional approach is a phenomenon in word study, providing a practical way to study words with students.

The Spelling Teacher's Lesson-a-Day: 180 Reproducible Activities to Teach Spelling, Phonics, and Vocabulary – 180 engaging and ready-to-use lessons (one for each day of the school year) that boost spelling skills in students grades 3 to 6.


Let's Learn to Read 10 DVD Collection by Rock 'N Learn

–

170 sight words, covers all phonics rules, vowels, consonants, blends, digraphs, practice sections to build reading fluency, 80 downloadable worksheets and more.

Phonics Pathways: Clear Steps to Easy Reading and Perfect Spelling, 10th Edition

– reading using sounds and spelling patterns.
Spelling Through Phonics: 30th Anniversary Edition – phonemic awareness and why it's important; detailed instructions on how to teach spelling easily, quickly, and efficiently.

Spelling Rules Multi-sensory Activities and Games – Printable multi-sensory activities, games, worksheets, and interactive notebooks.
Complete English Spelling and Pronunciation Rules: Simple Ways to Spell and Speak Correctly (The Farlex Grammar Book Book 3) – good spellers don't just rely on memory–they know the rules and patterns that tell them exactly how a word should be spelled and pronounced.  This is the only pronunciation and spelling guide that gives you direct access to all of those rules–and the many, many exceptions–with simple, easy-to-remember methods to handle every word that comes your way.
Spelling Rules Workbook – key spelling rules, patterns, and strategies to help improve spelling (for adults).
Spelling Workout teaches spelling skills based on phonics through unique, cross-curricular reading passages, practice, and high-interest writing activities.
Word Detective – learn to spell 200 words through 130 engaging puzzles. When they complete the spelling (grade 2) book, they'll be able to solve "The Case of the Hidden Gold." Available in 2 grade levels.
Spelling Games
Introduce some spelling games to keep learning fun!  Not only will the kids get spelling practice, but this is a great chance for family bonding.  Additionally, some of these games come in travel-size, magnetic editions to occupy the family when traveling.
Online Spelling Games and Apps
Continue the exploration of spelling resources with these online spelling games and apps.
Printables, resources, and games will make spelling FUN and engaging for your family! Which of these have you tried? What did you think of them? Are there any not listed here that I should mention? Please leave a comment and let me know!
More Resources for Teaching Spelling
The Most Common Spelling Rules
Choosing a Spelling Curriculum