You should consider these 5 things to buy from the Dollar Store this 4th of July! Save money by buying these Independence Day things there instead of other places.
July 4th celebrations are right around the corner. It's a chance for families to get together and celebrate. This means big parties, big cookouts, and tons of decorating! These celebrations usually come with a big bill! From the food to the decorations, it can get a bit expensive!
5 Things to Buy from the Dollar Store this 4th of July
Don't worry, I've got you covered! I've put together a list of 5 things that you can buy from the dollar store to save yourself a ton of money this 4th of July! You will be amazed at what you can find at the dollar store. Check out fun finds below: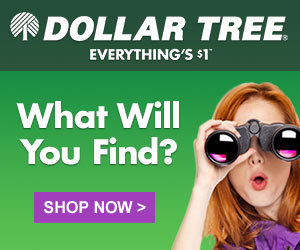 Flags: You can buy many different sizes and shapes of flags at the dollar store. You can get regular flags, small flags, flag banners and even flag buntings. All for just a buck each! This will help make decorating for your event easy and budget friendly!
Food serving items: This is the perfect area for your party to really go all out. You can get some really fun flag themed paper plates, flag napkins, and even flag themed table
cloths. Simply add some red, white, or blue fork and spoon sets and you are good to go!
Dress up items: Who doesn't like to dress up for the 4th of July! The dollar store has got you covered! You can buy flashing necklaces, flag themed glitter hats, fairy wings for the kids, fun headbands, flower leis, 

neck ties

, flag flip flops, flag sunglasses, and more! All for only a dollar each!
Floral arrangements: Did you know that the dollar store has some beautiful flowers for sale too? You can get some gorgeous red, white, and blue floral arrangements for just a buck each. There are many uses for these! You can also get really creative and make wreaths, headbands, and even some beautiful centerpieces with them!
Finishing touches: To finish up your party decor you can add some pretty red, white, and blue star LED string lighting. Tie on some big beautiful flag chair bows to each guest chair to add some pop to your theme. Pick up some red, white, and blue flag themed pinwheels and add it to your front yard to show your patriotism and to help direct people to your get together. Be sure that you also pick up some 4th of July themed balloons for the kids as well!
If you are hosting a fun 4th of July party you will definitely want to check out your local dollar store first! Decorating for your big event does not have to break the bank. It's your one-stop spot for all of your 4th of July party needs!